Learn what makes a poster and a canvas print different and when to use each one. We have prepared this guide to finally answer this question.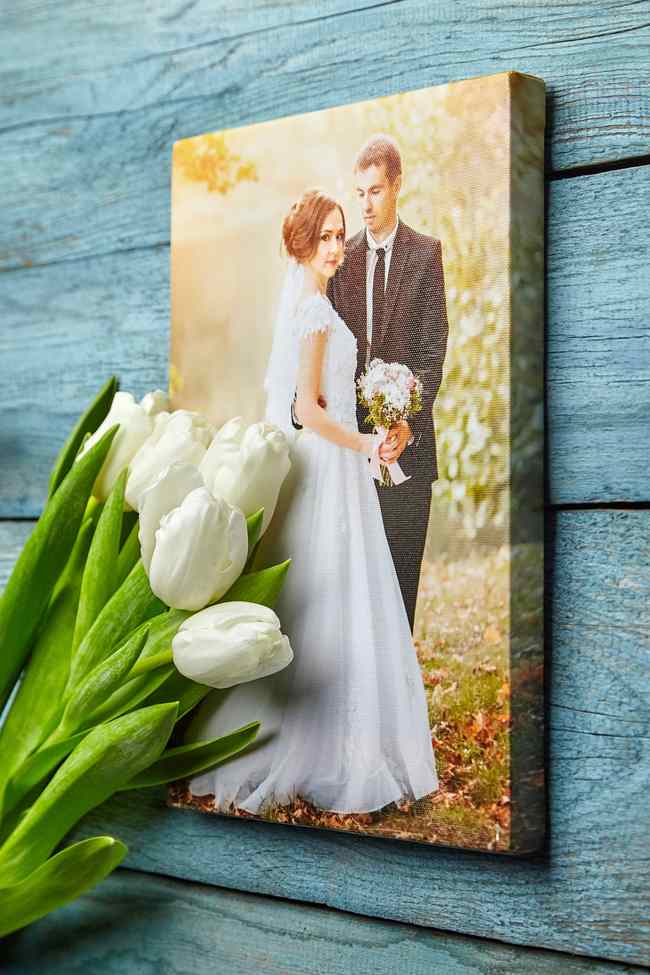 Although the difference between the two might seem pretty obvious, there are still many people who get confused when faced with this question. While both formats are completely different in terms of their original purpose, that doesn't necessarily mean that one is better than the other. It depends what you need. In order to clarify what makes these two formats so unique, we have prepared something to finally answer the question: what is the difference between a print and a poster?
The purpose
Although these two versions were developed at the same time (both made possible by the introduction of lithography, a printing process), both the use and the idea behind these media had very little in common. While the ability to reproduce a canvas eventually allowed masses to hang their own famous artworks on their own homes, it wasn't necessarily intended for mass production in the way the poster format was.
The poster format, specifically designed to be printed in thousands upon thousands of copies, found its true fulfillment in the invention of chromolithography. In any case, the poster was (and to some extent still is) a means of conveying information that often juxtaposes graphic and textual elements in a work of art. Posters were easily recreated and quickly hung anywhere to inform of specific events, and easily transported and hung wherever necessary.
Meanwhile, the canvas already made its mark a few centuries ago. Instead of the panel as the most popular format for artistic creation, the canvas dethroned the somewhat outdated medium at the beginning of the 17th century. Before becoming the most popular format for photographic printing, it was equally in demand by those who practiced acrylic painting and embroidery. Today, it's the most popular format for photographers and decor enthusiasts who want to copy their artwork cost-effectively while maintaining its appeal and integrity.
Long story short, while the poster was primarily intended to convey information, the canvas has always been employed to facilitate the creation and reproduction of artwork.
Which format is better?
That depends a lot on your preferences. While a canvas print is a sturdy, reliable framework that combines woodwork and printing, a photo poster is most often a wafer-thin photographic reproduction that displays your favorite movie, for example. There is virtually no competition when it comes to the capabilities of the materials. While a normal poster can easily be torn, the canvas can be thought of as an alternative to classic oil painting, produced to stand the test of time. A poster, no matter how high-quality, remains unchanged only as long as it remains untouched.
The look
Again, everything depends on taste. Posters often feature incredibly vibrant, eye-catching colors printed in a crisp resolution. The material properties of a canvas ensure that the images, despite their high-contrast character and remarkably sharp detail, always emphasize visual harmony and somewhat muted aesthetics. The disadvantage in both cases? While the former might be a little too much for certain tastes, the latter can express something very special. However, it should be noted here that 90% of the visual impact comes from the photo itself. Here we come to the first obvious strong point of the canvas.
Although, as already indicated, posters can often be of really high quality, the amazing appearance is seldom immune from the ill effects of time and the environment. A canvas print, on the other hand, is printed using HP solvent-free latex inks that are specially formulated to work with the surface for long-lasting results. Your canvas print will be immortalized if the conditions are not too extreme.
A canvas is also much easier to customize. In addition to being able to create a unique large-scale reproduction of one of your photos, you can also change and enhance the composition by using different colored frames and adjusting the edge design. For those looking for a medium to display highly personal photos, a canvas is the way to go. Posters, on the other hand, are pretty much the ultimate choice for fun reminders, movie posters, and clever quotes. Of course, all of this can also be printed on canvas, with the only difference being that the lifespan is significantly increased.
summary
While both are suitable means of personalizing your home, canvas is undisputedly the superior method that becomes a full-fledged, organic part of your home. Meanwhile, the poster will always retain an easily thrown away quality. Unless you lock it in a treasure chest or something. With prices that easily rival most other poster sites, be sure to visit us and create your photo on canvas.